Here are upcoming house projects in progress or on the docket:
1. Installing a 9-light antique bronze chandelier above our staircase:
This isn't the exact chandelier, but it's close (from Lowe's):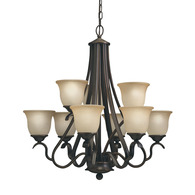 2. An ongoing process we've termed "oil-rubbed bronzing" the bathroom upstairs. The previous owners did a complete remodel of the bathroom less than 5 years ago, so everything is brand new, but the gold/brass fixtures just didn't match our personal style. So far we've replaced the shower trim, shower drain, toilet flush handle, sink faucet and some accessories such as a towel bar and switchplates. Left to complete are the clawfoot tub supply lines, toilet supply line, clawfoot tub faucet, shower door, sink drain, and the installation of an in-wall medicine cabinet we got on special order at Lowe's.
We found a great online vendor of supplies for older clawfoot tubs and other historic-home remodeling finds -
clawfootsupply.com
. Needless to say we've become one of their better customers...
The box!
New cast-iron register grills that are nearly exact replicas of the rusty, broken ones that are likely original to the house:
Oil-rubbed bronze gooseneck faucet for the clawfoot tub:
3. Painting the windows (white on the inside, beige/cream on the outside) and installing new pulls and sash locks
4. Creating and installing trim in the bedrooms and hall upstairs (white)
5. Painting the upstairs bathroom (green walls and brown trim)
6. Painting the hallway (beige)
7. Replacing the exterior window trim on the North, South and East-facing sides of the house. West-facing trim was replaced by the previous owners, but the remaining trim is rotted and deteriorated in many spots
8. Caulking and painting holes and cracks in the siding
9. Replacing or repainting the shutters on front upstairs windows
10. Repainting/touching up the front porch
11. Installing steel support beams in the basement in order to level out our uneven first floor
12. Installing an attic fan to improve ventilation upstairs
13. Repairing the very rotted, falling-apart, leaky and scary-looking outdoor cellar entrance
WHEW! That's quite an ambitious list... stay tuned...